$19.99
Regular price
$29.99
Sale price
Unit price
per
Sale
Sold out

Trust Cabinet Hinge for all your installation needs!
Our strong and reliable hinges make installation easy, so you can get the job done right the first time!
Features
Strong and reliable: Made from manganese steel, which is known for its strength and durability. This material can withstand heavy use and harsh environmental conditions, making it ideal for use in a variety of applications. The thickening of the base also increases the load-bearing capacity of the base, making the enclosure door and hinges more secure. In addition, more thick rivets provide a stable connection, making the construction more stable and durable.


Wide range of applications: Designed to fit a range of door thicknesses. The 3-inch hinges fit doors with a thickness of 12-16 mm, while the 170° large hinges fit doors with a thickness of 0-40 mm. This makes them suitable for use in a wide range of enclosures and other applications.
Easy installation: Cabinet Hinge Bridge Shaped Door Hinge is designed for easy installation and adjustment. The hinges come with pre-drilled holes for secure installation, and assembly is simple and straightforward. In addition, the hinges are supplied with adjustable screws that allow small adjustments to be made to ensure the door is correctly aligned. This makes it easy to ensure that the door fits perfectly and securely.
How to install:
1. Measure the thickness of the door panel

2. Pay attention to the closing direction of the hinges

3. Place the hinge on the door panel

4. Straighten and place the hinge on the door panel. First tighten one screw without tightening it. Once the position is determined, tighten all the other screws.

Specifications
Type: 3-inch thick hint (with screws), 170° large size hint (with screws)

Material: Manganese steel

Surface treatment: Nickel plating

Installation method: No hole opening required, fastened with screw-in screws

Size: 141*52 mm (170° large hinge)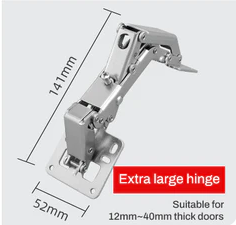 More Details